The Luxembourg House of Financial Technologies provides a base for young, innovative financial service providers from all over the world.
More and more companies in Luxembourg
The Luxembourg House of Financial Technologies provides a base for young, innovative financial service providers from all over the world.
The Luxembourg financial center offers an interesting ecosystem to young innovative financial service providers, called fintechs. They find banks there as partners, and from there they can offer their services throughout the European market.
---
---
The creation in 2016 of the Luxembourg House of Financial Technology (LHoFT), a public-private initiative which aims to digitize the Luxembourg financial sector and "network the national and international fintech community", should contribute to this. Most of the organization's partners are financial service providers and consulting firms.
The number of fintechs is increasing

At the end of 2021, Luxembourg had 220 fintech companies, 10% more than the previous year. Institutions based in Luxembourg have gone through the year well and have developed the assets they manage as well as their activities, indicates Nicolas Mackel, CEO of the agency Luxembourg for Finance (LFF), which also participates in the LHoFT, in the last LFF "Fintech" brochure.
Fintech companies are active in different markets and offer increasingly varied services. For a long time, they are no longer limited to the electronic processing of payment transactions or the mediation of credits and insurance policies. For example Regtech: in this segment, start-ups help institutions to comply with regulations in a simpler and automated way. Other fintechs, hosted by the LHoFT, offer automated investment advice and digital asset management solutions.
Still others are dedicated to the use of artificial intelligence and the exploitation of data: new technologies such as the Internet of Things and Industry 4.0 generate an increasing amount of data ("Big Data") . They have the potential to improve business processes and make them more efficient, but they still remain largely untapped today.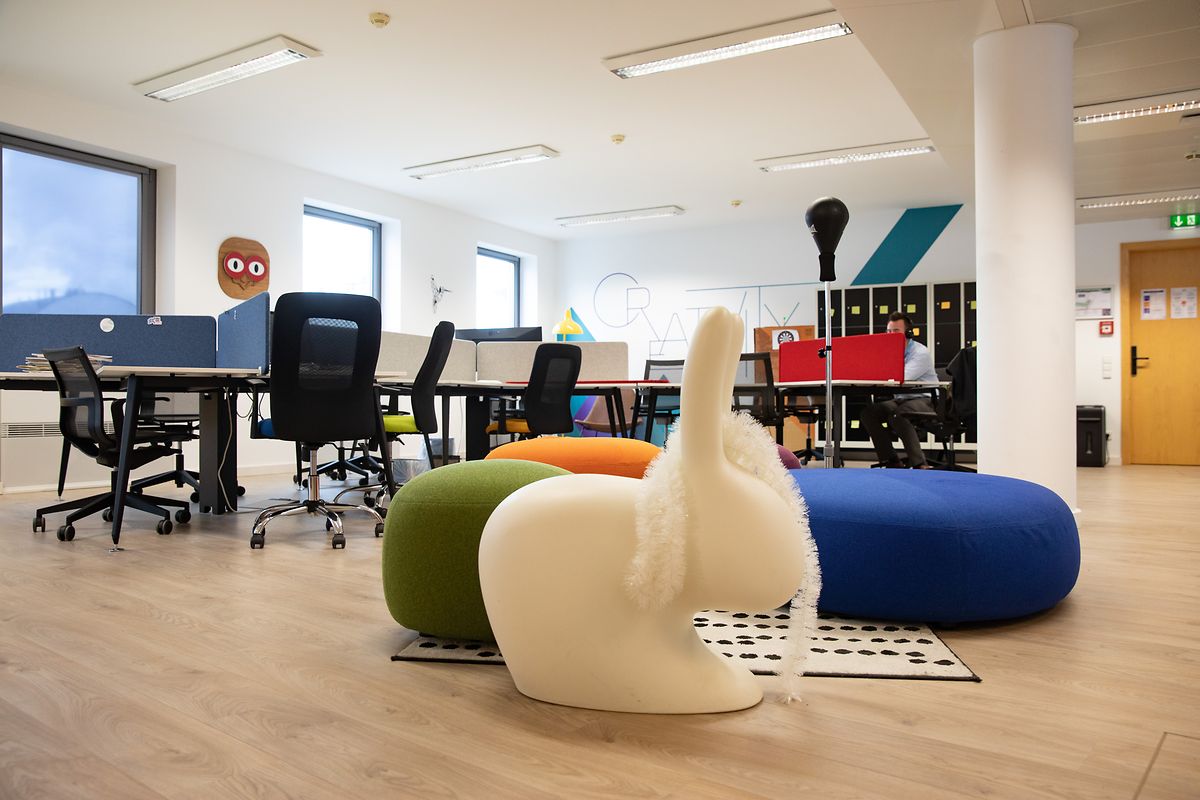 The LhoFT offers space for innovative ideas.
Photo: Gerry Huberty
Some fintechs that want to change this are in the LHoFT and are developing, for example, intelligent software systems that turn data into actionable and valuable knowledge. Many financial start-ups are also interested in blockchain technology. Some are virtual currency exchange platforms, others use blockchain technology to perform specific tasks, such as managing real assets, products or documents through the use of digital twins on blockchains.
---
---
Other LHoFT fintechs are interested in cybersecurity and developing applications for financial institutions. These range from secure instant messaging and products for secure online banking to identity and access management and electronic signatures.
The LHoFT as an innovation platform

The LHoFT offers financial service providers diagnostics, participation in industry projects, working groups and initiatives, training and promotional support. The LHoft offers investors, public bodies and associations access to a vast national and international ecosystem and connects venture capital firms and other investors with the fintech companies it supports.
In addition, the LHoFT offers programs that connect fintech start-ups with networks and help them with topics such as developing a business plan or managing risk. Thus, the LhoFT is organizing a "Kickstarter" competition in which five fintechs can win grants of 50,000 euros each from the Luxembourg Ministry of the Economy. Currently, the LHoFT looks after 172 member companies, of which 86 are established in the institution.
Nasir Zubairi leads the LHoFT: "Collaboration with the banking sector and the broader traditional financial sector is key to our mission".
Photo: Gerry Huberty
Demand remains high, says Nasir Zubairi, Chairman of LhoFT, as the financial services industry continues to evolve, with digitalization being one of the main drivers of this evolution. "We are also observing that more and more Luxembourg fintech companies are springing up like mushrooms. I am amazed to see that we have four former CEOs of well-known traditional financial institutions who are now working in fintech start-ups within our institution," said Nasir Zubairi.
follow us on Facebook, Twitter and subscribe to our 5 p.m. newsletter.
---


We wish to thank the author of this write-up for this outstanding material

Financial technology, a booming sector


You can find our social media profiles as well as other related pageshttps://metfabtech.com/related-pages/